In the rapidly changing world of digital marketing, books might not come to mind as top resources to learn what you need to know right this minute. But if you want to get down to the core value of digital marketing, there are two books you must read. All the details might not be up-to-the-minute—considering Instagram ads and Promoted Pins didn't even exist when these books were published in 2013 and 2014—but understanding what your audience really wants still resonates loudly in both Youtility: Why Smart Marketing is About Help Not Hype by Jay Baer and Jab, Jab, Jab, Right Hook by Gary Vaynerchuk.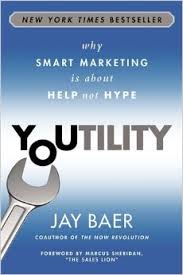 Youtility
This book discusses how businesses must evolve with the changing media landscape. Since the beginning of advertising, people selling things have typically been focused on themselves and their bottom line more than their customers. With the Digital Age, that tactic simply no longer works. Instead, businesses have to deliver what Baer calls Youtility, or "Marketing so useful, people would pay for it."
One of the best aspects of taking this approach in your promotional efforts is the emphasis on the long-term value of a client. As Baer says, "If you sell something, you make a customer today, but if you genuinely help someone, you create a customer for life." That kind of fierce loyalty can only be obtained by consistently putting the customer first. I recently purchased a skirt from a Facebook ad, only to discover that the company basically has a zero-return policy and the skirt looked nothing like the product pictures. I will never, ever purchase anything from that company again because they only cared about making the one sale from me instead of my potential long-term value.
Baer also breaks down the three facets of Youtility:
1. Self-serve information (like searchable blogs and social media content)
2. Radical transparency (such as FAQs, About pages, behind-the-scenes content)
3. Real-time relevancy (which could include frequently updated social media channels, monitoring hashtags and trends and jumping into appropriate conversations, and information people need on-the-go)
Find Youtility on Amazon, which also includes blueprints for how to create Youtility. It also includes a foreword by a "The Sales Lion, " aka Marcus Sheridan, who took his pool company from the brink of bankruptcy in 2008 to major success by starting a blog.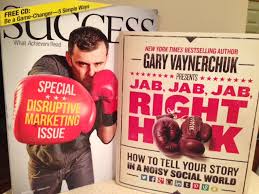 Jab, Jab, Jab, Right Hook
Gary Vaynerchuk's style is more in-your-face than Jay Baer's, but they share similar philosophies and approaches when it comes to digital marketing. In JJJRH—which can be translated into give, give, give, ask—Vaynerchuk focuses on "how to tell your story in a noisy social world" and breaks down the book into chapters on Facebook, Twitter, Pinterest, Instagram, and Tumblr. One of the biggest takeaways is what he deems an absolute fact when it comes to being a successful business in this day and age: "All companies are media companies."
Sadly, many businesses still haven't accepted this reality. Some might even feel it's unfair that they have to worry about being a media company (meaning the need to produce content like blog posts, social media posts, etc.) on top of running their actual company. But the truth is, if you're not a trusted information hub for your customers, then they might turn to your competitor who has social media channels chockfull of useful information a website packed with answers to all their questions—all presented in an appealing, easy-to-navigate web design.
In JJJRH, You'll also find examples of native and non-native social media posts, which emphasizes the importance of customizing each post for the specific social media channel it will be published on. Vaynerchuk also edits some non-native or poorly executed posts and turns them into winning posts with just a few tweaks to show readers that with just a few extra minutes, every piece of content you share can be a winner.
Find Jab, Jab, Jab, Right Hook on Amazon and check out The #AskGaryVee Show, which features new episodes frequently about today's hot digital topics.