You've got a website that maybe doesn't look quite as good as what you want, but seems to work OK. Do you really need a new website?
As a digital marketing company, of course, we're going to advocate for great websites. But here's the unbiased truth: While the content of your site is crucial, its design is also extremely important. And not only should your site look good, but it should also comply with current search engine standards (more on that below) so you get found online by your customers.
If you're on the fence about whether you need a new website, here are five signs that a redesign is in order.
#1: Your Site Is Not Mobile Responsive
Have you ever come across a website on your phone that looks like this?
Did you:
a)  Silently curse the site owner.
b)  Get too frustrated to use the site.
c)  Click away immediately to look for an easier-to-use page.
Chances are, you did all three. Obviously, you don't want this to happen to your business.
This is called a non-responsive (or non-mobile friendly) website because it doesn't adapt its layout and usability to the device on which it's shown (desktop, tablet or phone). In an increasingly mobile world, having a website that works properly on all devices is critical to the health of your business.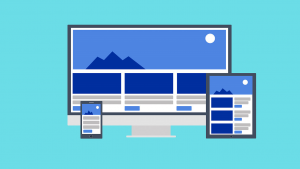 On the technical side, there's another reason why having a mobile-responsive website is imperative: Google.
In 2015, Google released an algorithm that penalized non-responsive websites. Ouch. Then, in March 2018, the search giant officially initiated mobile-first indexing. Since more than 50% of searches now take place on mobile devices, Google is being crystal clear that it wants you to not only have a site that works on a smartphone but to design for mobile users first.
So, how do you know if your website is mobile ready? Pop it into Google's mobile-friendliness test. You can also take a look at your website on your desktop, pull it up on your tablet and check it out on your phone (and ask your friends to do the same).
Does your site change to display correctly on each device? Does it function properly? Then you're probably good to go.
If not, it actually is critical to redesign your site.
#2: You Can't Easily Edit Your Website
What do you do when you've inherited a website? How do you find out where it's hosted and how to access it? What if you haven't updated your website in a long time and aren't sure how to edit it?
An older website, or one that you've inherited from a previous owner or employee, can pose problems when you need to make updates. This can be a big sign that it's better to start from scratch.
A new design will set you up for years of headache-free operation. Today's website platforms are very user-friendly, making it easy to do simple revisions yourself.
In our web design process, we train you on how to make basic site updates so you can quickly fix that typo or add a new picture on your company blog (or we also provide tech support if you prefer).
Having access to edit the content on your site will help you make sure that it's always up to date and accurately reflecting what you do.
#3: You've Undergone a Rebrand
So, you've got a new logo and switched up your brand colors. New business cards are on order and you've even commissioned a new awning for your storefront. What about your website?
A site redesign after a rebrand is a fairly standard move. You obviously can't have your company T-shirts look like one thing while your website looks like it belongs to someone else. Make sure your brand message and imaging is cohesive across the board.
#4: You've Made Significant Changes to Your Service Offerings
Let's say you're a local restaurant that has opened a new location, hired a new head chef and/or completely changed your menu. It's time to share these exciting changes with your customers! You go to update your website and quickly realize that simply changing the text isn't going to cut it.
It might be time to hire a professional to revamp your site. An experienced web marketing company can customize a new site to reflect your updated services, plus perform search engine optimization (SEO), such as keyword-targeted text and technical coding, to help your business get found by search engines and potential clients. This means adding a keyword-rich landing page for your new location so that customers in that area will find you, or making sure that the headings on your pages are using phrases that are often searched on Google (think "Asheville Mediterranean Food" and "Quick Mediterranean Take-Out").
We can research the best keywords and phrases for you to use and we will build your new site to make sure it connects you with your customers.
#5: You Have New (and More) Competitors
It's inevitable – you're eventually going to be met with other local professionals offering the same products or services as you . . . or maybe it's you who's the new competition. Now, not only does your on-the-ground marketing need to ramp up, but so does your online presence.
As frustrating as it can be when it happens, this situation does become a bit of an online "Keeping Up With the Joneses". The truth is, people, make purchasing decisions based on a site's content, design, and usability. Often, a new customer's first impression of your business is your website. You shouldn't lose a potential client because of an outdated, poorly functioning website.
What To Do Now?
If you're still not sure, or if you've answered "yes" to a number of these items, Integritive offers free consultations to discuss your goals and review your current site to see if it's time for an update. Give us a call at (828) 250-0970 or fill out our online contact form and we'll be in touch!