Content marketing.  
It's been a buzzword for years now, but what does it really mean, and more importantly, how do you avoid spending all your time creating content?
Content Marketing Institute provides this definition:
"Content marketing is a strategic marketing approach focused on creating and distributing valuable, relevant, and consistent content to attract and retain a clearly-defined audience—and, ultimately, to drive profitable customer action."
Your goal as a business owner is to distribute content that your target audiences will want to consume because it's useful to them in some way versus advertising, which is often viewed as an unwelcome interruption. This might be in the form of blog posts, newsletters, infographics, videos…the list goes on (see "105 Types of Content to Fill Up Your Editorial Calendar" on Convince and Convert). Whatever your company creates, it needs to lack the stench of overtly selling. So how do you accomplish this goal?
Involve your entire team in telling your company's story.
Everyone on your team might not be a writer, but each person has ideas, experiences, and insights that are unique to his or her perspective and therefore can aide in creating content. Perhaps one of your team members is really into livestreaming. Why not task them with livestreaming a presentation or a virtual tour of your office? Another team member might be a great photographer; challenge them to capture shareworthy moments around the office.
This might take some nudging at first and will require someone to lead the charge by sending content needs, celebrating victories, and perhaps even creating an incentive program. Take a cue from NavigationArts, who developed Digital Olympics that helped result in "content participation from nearly 70% of our employees across 100% of our departments."
Scheduling brainstorming sessions each week for even just 15 minutes shows that creating quality content is a top priority, and leading by example will also push your team to contribute. Yet, the real motivator for team members should be helping the company that they love working for reach new heights because they know that they'll reap the benefits, too.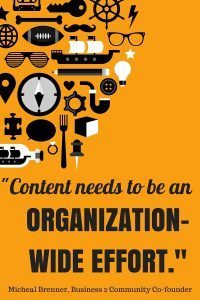 Michael Brenner, Business 2 Community co-founder and long-time SAP content strategist, says of content creation:
"Content needs to be an organization-wide effort. Content marketing should be a strategic, enterprise-wide effort whereby the entire organization is geared toward continuously creating content that will help their audience and ultimately drive business impact. It's a real challenge for us to move towards that kind of thinking."
A company—no matter its size—with a strong content creation culture typically has a strong company culture, period. Empowering team members to create content promotes transparency, provides them with an increased sense of value, and gives your customers a true glimpse into the real inner workings of your business. All it takes is a little time, training, and encouragement. The result will be an inbox overflowing with ideas, blog posts, and other content perfect for sharing on your blog, social media channels, and company newsletters.