The future of mobile search engine optimization (SEO) may very well be voice search. More and more smartphone users now turn to voice search to find the information they need. What does this mean for small business owners and their websites?
What Exactly Is Voice Search?
Voice search is simply the ability to conduct a web search with voice commands rather than typing it into a search engine — and it's becoming increasingly commonplace. Virtual assistants such as Google Assistant and Apple's Siri now make it possible for a mobile user to conduct a voice search hands-free, without even looking at the screen.
Voice searches are an ever-growing percentage of mobile search traffic. In fact, it's commonly predicted that 50% of all online searches will be voice searches by 2020! Voice search isn't exclusive to younger demographics, either. It's used by people of all ages and — most interesting to local business owners — frequently used for shopping research and finding local business information.
Other important statistics show that:
If you want to be ready for these SEO game changers, now is the time to prepare by optimizing your website for voice search.
How Do I Optimize My Website For Voice Search?
Much like traditional SEO for a new website, there are several key factors in optimizing your site for voice search. They can be broken down into three major steps.
Optimize for Local Search
Users looking for information on local establishments typically use long-tail phrases with many words such as "Where can I get Chinese delivery in Asheville?" or "What time does Integritive close?" If your business can answer these common types of questions, you'll likely receive the lion's share of voice search traffic.
How do you make sure you're showing up for these searches? Make sure your Google My Business listing is up to date and has NAP (Name, Address, Phone) consistency across all websites that have your business listing. This will make it easier to answer questions that potential customers have about your business.
Look closely at the content on your website. Does it answer natural and common questions users and potential clients might have about your business?
If not, consider developing FAQ pages that will answer these questions clearly and directly. As you implement your on-site SEO, try using terms relevant to local searches. As always, make sure to use carefully reviewed keyword data to generate these terms.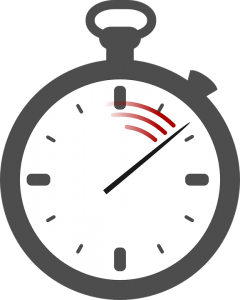 When it comes to voice search, speed is the name of the game.
It's already well established that longer load times for your website correlate directly with bounce rate. If your site takes too long to load, users will likely leave long before they've interacted with your site.
This is especially true with mobile users. A mobile-friendly site designed with quick load times in mind is vital for success. Things like AMP-optimized web pages (pages designed with super lightweight code) are even given higher priority when it comes to search engine rankings on mobile results.
How Can I Get Help With Voice Search Optimization?
Voice search optimization is quickly becoming one of the most important trends and may soon dominate SEO practices. Those with the savvy and foresight to prepare for these trends will certainly reap the rewards.
If you're interested in learning how you can further optimize your site to be more voice-search friendly, drop us a line! Integritive has been working with a number of Western North Carolina-based businesses to get their sites optimized for voice.