When people talk about search engine optimization (SEO), they're referring to strategies you can take to make sure your business' website ranks highly on search results for queries related to what you offer. So, when someone searches for "Charlotte web design", you'll see several businesses ranking at the top.
For locale-specific websites around the Charlotte area, you need to take it a step further with local SEO. What is local SEO? It's the strategies you take to ensure your business shows up correctly and prominently in local search results – think: search results for people who are nearby and can actually bring in business!
If you run a business in the Asheville area, it's crucial that your website appears at the top of Google's search results. Of course, you're likely wondering, "How do I get started?"
From a team that has been doing local SEO strategies for years, we will share that there's one thing to target with your local SEO efforts. Fortunately, we're going to share what that is and offer you some tips and tricks to get those search results climbing to the top.
The Local 3-Pack
The most coveted position in local search is within the so-called "Local 3-Pack", and it's the #1 thing you need to target for local SEO.
This set of search engine results contains the three most relevant businesses for a particular local search query. For example, if you google "Web Design Asheville", this is what you get: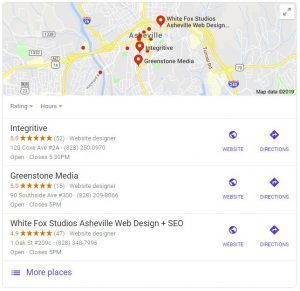 The first thing that you'll notice is the business and its location are listed. While other local competitors may appear, only the three that are most relevant to the search are completely displayed. The majority of clickthroughs (and sales!) will occur for businesses that can occupy this space.
What does it mean if your business doesn't show up in the top results? You've likely got some SEO work to do. Let's break that down into five main steps.
Audit and optimize your website
Contacting experienced local SEO specialists to perform a site audit is the best place to start. A fresh set of eyes from an expert perspective can analyze your website in depth, page by page, to find and implement solutions to site-wide issues you may not have noticed. They will then recommend relevant keywords for which you can optimize your content, plus find security or functionality issues that can improve your search engine standing.
Add contact information
While this might sound like a no-brainer, you'd be surprised at how often we find inconsistent or non-existent contact information! NAP (Name, Address, Phone) consistency is a vital step in getting your site to rank highly for local listings.
Add a map
Make it easy for website users to find your location by adding a map to your contact page. Unfortunately, Google no longer offers free map integration, so you'll need to contact an experienced Charlotte web developer to install one.
Clean up local listings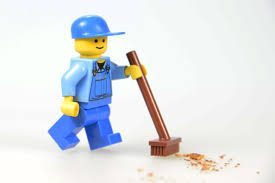 NAP consistency shouldn't be limited to just your website. Google My Business, Facebook, or Yelp listings should be the same as what's listed on your website. According to a Moz study, consistency between listings is a ranking factor.
While there are certainly many other ranking factors, this is one of quickest ways to improve your search engine standing. If you're not sure of which listings you have or how to edit them, contact an SEO team. They can ensure your local listings are accurate and up to date.
Target local results
If you're doing business in Asheville (or any other city), create content for local results. Remember, the #1 rule for content: Keep it interesting! Talk about not only your company and the services you offer, but emerging industry trends and local news, too. If the content you create is engaging, you stand a better chance of attracting users to your site and push your rankings to the top.
Working side by side with SEO specialists who can guide you in the right direction will help get the results you're after. Reach out to Integritive today and we'll assist you with your local SEO endeavors, every step of the way!